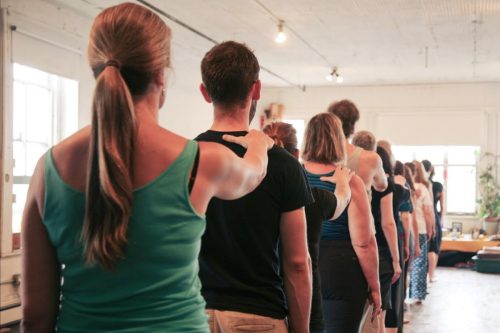 VOCAL ENSEMBLE WEEKEND WORKSHOPS
Due to the current pandemic, we have moved all of our workshops offerings onto the Zoom platform. Individual workshops with members of the Vocal Ensemble have been taking place via Zoom on Sunday afternoons at 2pm EST. Please click here for our current offerings.
---
We offer biannual workshops with members of Meredith Monk & Vocal Ensemble, who are all master teachers and have been working with Meredith on average for thirty years. Reflecting diverse backgrounds and interdisciplinary approaches to performance, Vocal Ensemble members past and present share Monk's process for creating work. Beginning with breathing techniques and a detailed vocal and movement warm-up, participants work with the voice and body as multifaceted instruments for exploring range, timbre, gesture, resonance, character, landscape and rhythm. The work aims to uncover the fundamentals of performance as a vehicle for spiritual transformation. Selected pieces from Monk's repertoire will also be taught.
SAMPLE SCHEDULE
Friday-Sunday
11am-1:30pm & 2:30pm-5:00pm
Meredith Monk's Loft, New York City
With Tom Bogdan, Janis Brenner, Allison Easter, Ellen Fisher, Katie Geissinger and Paul Langland*
Goals:
To find a balance of structure and spontaneity, freedom and form.
To begin to build the "feel" of an ensemble, both in rehearsal and performance.
To provide a springboard from which participants can discover and develop a personal viewpoint and means of expression.
More Info:
The workshop is open to all levels of performance experience.
Participants should wear clothing and shoes allowing for ease of movement.
14 Students Maximum.
Workshops may be filmed.
"The experience allowed me to appreciate Monk's work on a deeper level."
"Each day was miraculous…it opened me up to possibility."
"The workshop exceeded my expectations. The teachers were all phenomenal."
*Please note, Meredith Monk does not teach during this program offered by The House Foundation. Teachers are also subject to change.
Acceptance into the workshop is on a first-come, first-served basis. Preference will be given to students able to attend all three days.
Refund Policy
Cancellation 4 weeks or more before the start of the workshops, The House Foundation will refund 100% of payment. Within 4 weeks but more than 7 days before the workshops, under extenuating circumstances 50% of payment will be refunded or moved toward payment for a future workshop. Cancellation less than 7 days from the start of the workshop, payment is non refundable.
---
Friday
AM Paul Langland
Paul Langland will lead a dance and sound warm-up leading into deeply connective improvisations. The warm-up will be influenced by principles from Contact Improvisation and Allan Wayne Work. The workshop will then include a selection of Monk repertory which has song and movement.
PM Katie Geissinger
Katie Geissinger will lead an extensive vocal warm-up, exploring relaxation, breathing, flexibility, ease of production, and expressivity. The session will focus on canoning, hocketing, and voice and movement exercises. Participants will also work on small group improvisations using Monk repertoire.
Saturday
AM Ellen Fisher
Ellen Fisher's session will be movement based, using some of Meredith's language of gestural shaping. There will be group improvisations as well as simple solo & group choreographic problem solving, using terminology of rituals, rites and trance dance.
PM Tom Bogdan
Tom Bogdan will deal with a simple approach to voice production and teach a basic tour of exercises to help with breathing, resonance, range and color. He'll also teach a round, do an improvisatory exercise and work on one of Meredith's pieces, Panda Chant II, Quarry Weave, or other.
Sunday
AM Janis Brenner
Janis Brenner's session will include a brief physical warm-up, and a vocal warm-up with the teaching of a song to be sung in "round", then enhanced and transformed with movement. This will lead into movement/voice integration through structured improvisations and character development.
PM Allison Easter
Allison Easter will focus on movement integrated with singing; a movement warm up influenced by Laban/Bartenieff work and Irene Dowd, to improve clarity, strength and expressiveness in the body, singing in rounds. The session will include Monk repertory and creative work influenced by Quarry and A Celebration Service.
If you are interested in bringing a Vocal Ensemble Workshop to your school, home, or place of business please contact Sarah Lerner at lerner@meredithmonk.org.
Vocal Ensemble Instructors Include:
Tom Bogdan teaches voice at Bennington College and has worked with Meredith Monk since 1991. Ms. Monk wrote New York Requiem especially for him. Tom has received critical acclaim for his performances in Concert, Opera, Recital, Cabaret and his own interdisciplinary pieces, L'Amour Bleu and Tell Me The Truth About Love, both produced by Danspace Project, NYC. Of his many recordings his favorites include Monk's ATLAS, Tom Bogdan's L'Amour Bleu, a gay celebration of love, and his For Your Delight with pianist Harry Huff. He has received Fulbright awards to teach Monk's A Celebration Service to students in Manila, Philippines, a Hungarian Ensemble in Budapest and in São Paulo, Brazil, and most recently directed productions in Kiev, Ukraine and at the University of Montana. Bogdan's CD Hungarian Folk Songs by Bartók and Kodály is available on Centaur Records.
Janis Brenner is an award-winning dancer/choreographer/singer/teacher and is Artistic Director of Janis Brenner & Dancers in N.Y. She has toured in 36 countries and is recognized as a "singular performer" with a multifaceted artistic range receiving numerous honors/grants from the US State Dept., The Trust for Mutual Understanding, Asian Cultural Council, The Fund for US Artists, and UNESCO, for tours in Russia, Indonesia, Senegal, Taiwan, etc. Janis joined Meredith Monk & Vocal Ensemble in 1990 for ATLAS, receiving a group "Bessie" award for The Politics of Quiet in 1997. She performs an acclaimed suite from Monk's Songs from the Hill in concert and in 2009, revived Monk's seminal 1964 solo Break for JB&D's NY season at Joyce SoHo. Her classes / workshops in improvisation, choreography, repertory and movement/voice have been taught throughout the world. She is currently on the faculty at Juilliard serving as Choreographic Mentor and Creative Process instructor, as well as creating and touring with JB&D. Her most recent work has taken her to China, Bosnia, Macedonia, Stockholm, and Singapore. After receiving a 2017 "Best Choreography" award from the United Solo Festival Off-Broadway, Ms. Brenner premiered her interdisciplinary full-length solo, Inheritance: A Litany at the festival in October 2018 and received "Best Production", "Best Composer" and "Best Lighting Design" awards. Formerly, Ms. Brenner was a soloist with the Murray Louis Dance Company, working with Rudolf Nureyev, Placido Domingo, Dave Brubeck Quartet, Joseph Papp, Bat Sheva Dance Company, and Alwin Nikolais.www.janisbrenner.com
Allison Easter has worked with Meredith Monk since the 1985 revival of Quarry. As a member of Meredith Monk & Vocal Ensemble, she has sung on recordings, toured the US, Europe, Asia, received a "Bessie" Award for her work in The Politics Of Quiet, and directed the chorus of Quarry in the 2003 Spoleto Festival. She was the first American woman to appear in the Off-Broadway percussion sensation STOMP. She played Vengeance in Will Pomerantz's A Tale Of Two Cities, Jerri Lewis in Tony Zertuche's Anchors, Ms. Porgy in the feature Vacuums, Anita Chambers on Law & Order, and danced with Susan Marshall and Company receiving a special mention in The Village Voice. She has produced and directed original works at Ensemble Studio Theatre, the NY Fringe Festival, and has taught dance and performance at Bennington College, Naropa Institute, Marymount Manhattan College, Pace University, Sarah Lawrence, Horace Mann High School and NYU-Tisch. Allison has also taught through the Meredith Monk & Vocal Ensemble education program at Bard HSEC, LOMA (Lower Manhattan Arts Academy), and has staged the Folk Dance from Monk's A Celebration Service in Syracuse NY, Budapest, Kiev and the Philippines, among others. Look for her new music video, Hands Off Democracy, on YouTube.com
Katie Geissinger has been performing with Meredith Monk since 1990, at festivals and venues worldwide, in concert, and in pieces such as ATLAS, The Politics of Quiet (for which she is a Bessie recipient), mercy, the Grammy-nominated impermanence, Songs of Ascension, On Behalf of Nature and the currently touring Cellular Songs. She premiered Bang on a Can's OBIE award-winning The Carbon Copy Building and performed in the second world tour of Philip Glass and Robert Wilson's Einstein on the Beach, which was revived in concert at Carnegie Hall. Other Carnegie Hall appearances include Bach's Magnificat with the Orpheus Chamber Orchestra, the Witch in Honegger's Le Roi David, and Osvaldo Golijov's Ainadamar. Katie has also appeared in Jonathan Miller's staged productions of Bach's St. Matthew Passion at BAM, and in John Tavener's The Veil of the Temple at Lincoln Center, where she also recently performed in a run of Stravinsky's Les Noces with New York City Ballet. Her Broadway credits include Baz Luhrmann's production of La Boheme and Coram Boy, and Off-Broadway she has appeared in many Gilbert and Sullivan operettas. Katie has premiered many new music theater pieces, including Mark Mulcahy and Ben Katchor's The Rosenbach Company, Philip Miller's Venus at MASSMoCA, and Julia Wolfe's Steel Hammer with The Bang on a Can All-Stars and Anne Bogart's SITI Company. Her teaching experience ranges from choral work in Estonia and San Francisco to workshops at Naropa, Bang on a Can's new music institute at MASS MoCA, Oberlin, ETW at NYU, Berklee, the Weill Music Institute at Carnegie Hall, and LaGuardia High School for the Performing Arts.
Ellen Fisher is a movement-based performance artist whose work integrates gestural actions with visual elements such as film and shadow play. Ellen's performance work is informed by her ethnographic research in the rituals and trance dances of South Asia, particularly Sri Lanka, for which she has received ACCNY grants and a Fulbright. She has also been granted funding for her solo work from the NEA, NYFA, and Jerome Foundation, among others. Ellen began performing with Meredith Monk/The House in the 1970s, and continues today. She and Katie Geissinger have led the Meredith Monk & Vocal Ensemble education program involving New York City high school students since 2009. Ellen also teaches and lectures regularly on dance both domestically and internationally.
In a career spanning 46 years, Paul Langland has built an international reputation as a pioneering dance teacher and innovator, choreographer and performer. His career highlights include: creating Allan Wayne Work, the teaching and choreographic system based on the work of American dancer Allan Wayne; being an original member of Meredith Monk & Vocal Ensemble; being central to establishing Contact Improvisation in New York through performances, teaching, and event organizing; being a collaborator and performer with Mary Overlie when she developed the Six Viewpoints; and presenting his choreography and teaching world-wide. With Meredith Monk he was in such original productions as Quarry, The Travelogue Series, Recent Ruins, Specimen Days, Ellis Island (film), Dolmen Music, Turtle Dreams, and others. He has also worked with several other legendary directors and choreographers including Steve Paxton, Ping Chong, Simone Forti, David Gordon, Daniel Lepkoff, Sally Silvers, and Diane Torr. Paul's groundbreaking performances and creative works have contributed substantially to the vibrancy of New York's dance scene. He is a recognized authority on contemporary dance, frequently referenced in leading books and articles, and broadcast dance interviews. He has also authored several articles in dance publications. Paul is an Arts Professor at New York University's Tisch School of the Arts Department of Drama, Undergraduate, Experimental Theatre Wing. He is also a recipient of the BAX (Brooklyn Arts Exchange) Arts Educator Award, 2014. www.paullangland.com