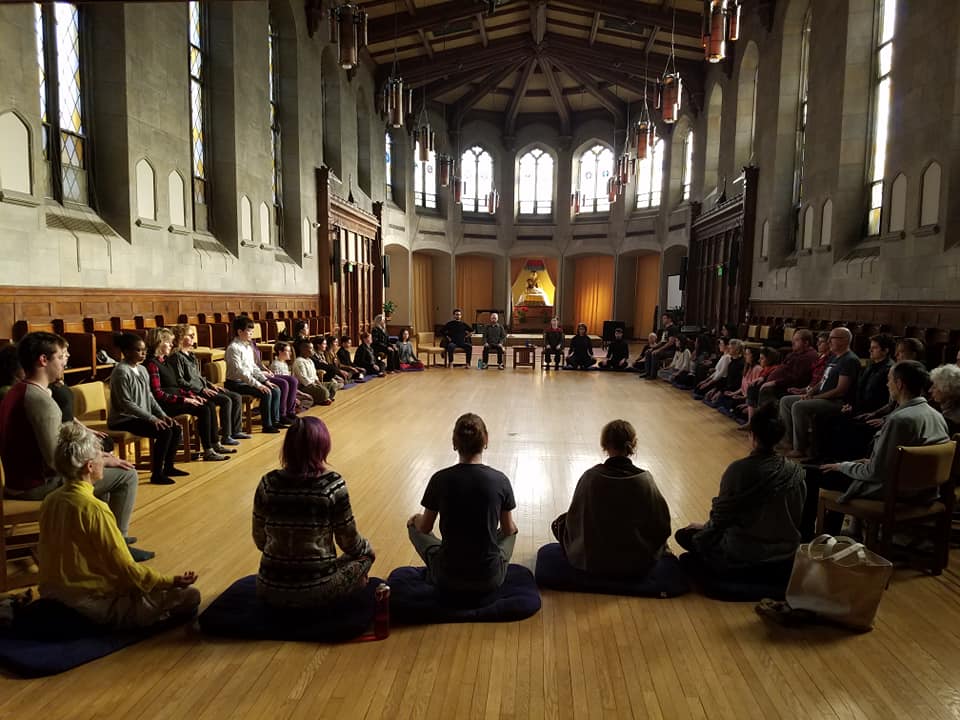 Workshops with Meredith Monk
Meredith Monk teaches workshops throughout the year at universities and in partnership with organizations, including the Garrison Institute, 1440 Multiversity, Omega Institute and more. These workshops combine a basic instruction in meditation with exercises in her artistic approach, combining voice, movement and image.
To stay informed of future offerings, please sign up for our mailing list here.
If you are interested in bringing a Meredith Monk Workshop to your school or business please contact Sarah Lerner at lerner@meredithmonk.org.
---
UPCOMING WORKSHOP
Voice as Practice / Art as a Beacon in Dark Times
December 18-20, 2020

Meredith Monk with Ellen Fisher
Hosted by the Garrison Institute online over Zoom
More information and to Register


The voice, the original human instrument, is an eloquent language that delineates feelings, energies, and memories for which there are no words. In our current time, it can be used as a way to connect more deeply with ourselves, as nourishment and energy, helping to fortify our hearts and minds.

For this virtual workshop, Meredith Monk and Ellen Fisher will offer an online environment where voice, movement and image intersect, creating an opportunity for us to discover our own personal richness. Each session will begin with a short guided meditation, followed by a detailed vocal and movement warm-up. We will continue with exercises exploring resonance, range, gesture, scale, rhythm, character and landscape. The playful aspect of creation and the joy of discovering our unique vocal and physical qualities will be emphasized as a way of connecting us to the healing power of the voice and body. The use of Zoom will also embrace our ability to work together with people from all over the world, practicing with and alongside others to generate a greater sense of solidarity.

Meredith will also share some performance videos that she has created and interviews that she has offered on Zoom since the beginning of the pandemic. At the end of the workshop, there will be an opportunity for a Q&A with Meredith and Ellen, providing insight into some of the ways that Buddhist and artistic practices have served as a beacon for them in these times, and how they might be of use to others. The workshop is open to all levels and backgrounds.