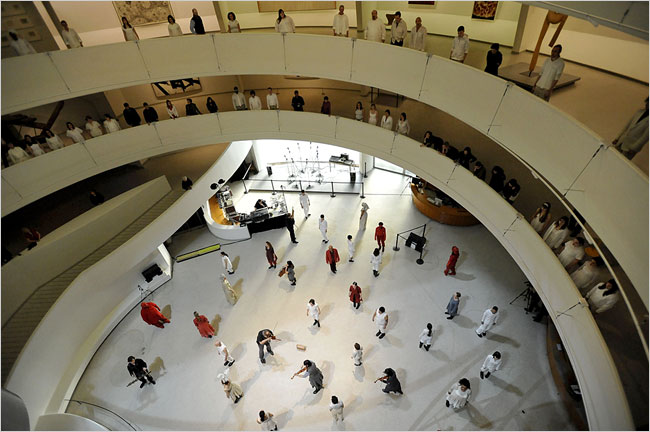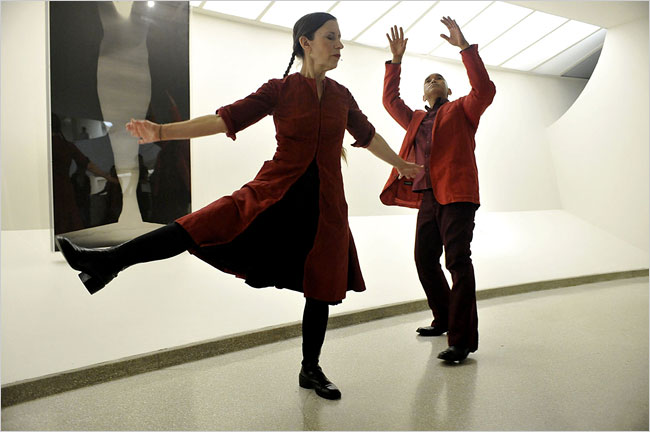 "Forty years after "Juice: A Theater Cantata in 3 Installments" was performed at the Guggenheim Museum, Meredith Monk is back with a new work, or rather a new-old work. In "Ascension Variations," presented at the museum on Thursday night, Ms. Monk, the heralded composer, director, singer, choreographer and filmmaker, follows the spatial structure of "Juice." Or, as she explained in a WNYC interview, "Here's the same bottle, but the liquid's different."
This poignant site-specific work for 120 performers blends selections from Ms. Monk's recent "Songs of Ascension" with elements of the 1969 "Juice." The audience members begin on the ground floor of the Guggenheim's majestic rotunda. From the ramps that swirl above their heads, voices waft throughout the space. Four performers, smashed together to resemble a caterpillar and covered in red from head to toe, slowly plod up the ramp.
The crimson organism is a direct echo of "Juice." (In that production, Ms. Monk was one of the figures in red.) This time Kate Valk, the scintillating Wooster Group member, leads the pack, her eyes half-shielded by a wide-brimmed hat, as Gideon Crevoshay, Clarinda MacLow and Lawrence Goldhuber waddle behind her, travelers who have lost their way. Ascending the ramp from bottom to top, they slip in and out of view like a mirage.
Singers, in white, congregate in packs along the ramps, breezing along like celestial creatures, raising an arm overhead and jutting it out with an angelic defiance. Musicians hold their instruments over the edge, and more singers, including Ms. Monk, yelp and coo from various points in the space, creating a sound to mirror the way bodies materialize and vanish." –  GIA KOURLAS from the New York Times
Photo Credit: Stephanie Berger