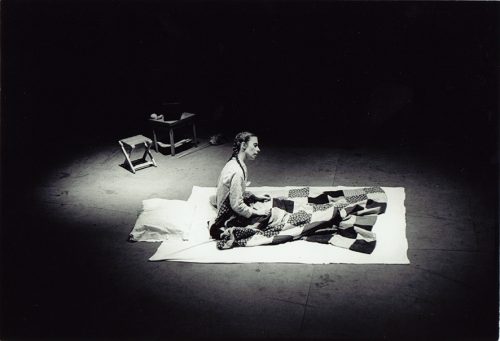 HELP SUPPORT THE NEW
QUARRY RESTORATION!
1
After 15 years of fundraising, sound mixing, edits and color correction, the restoration of Meredith Monk's 1977 film QUARRY: an opera in three movements is $12,000 away from completion!
Would you donate $60 to help us over the finish line?
Your contribution helps to:
Complete a final pristine sound mix to ensure the best possible audience experience for the music of

Quarry

, no matter where it screens.

Support the House Foundation in bringing

Quarry

to venues across the U.S.

Preserve the pioneering work of iconic female artist Meredith Monk, for new audiences and future generations to discover.
"The real organizing base is the music in the widest sense of the word," Monk said, in a 1985 interview about Quarry for the New York Times. "Even the bicycle bells are pitched a certain way, and even the maid sweeping is part of the texture and the musical continuity. If you closed your eyes, the piece would work on its own."
Your contribution ensures that each individual thread of the elaborate texture of Quarry can be heard.
Please consider contributing in one of the following ways:
-Online at meredithmonk.org
-Via check to The House Foundation, 260 West Broadway, Suite 2, New York NY 10013
---
Make a donation in any amount:
---
All donations are tax-deductible to the full extent allowable by law
To support via check:
Please make checks payable to The House Foundation.
260 West Broadway, Suite 2, New York, NY 10013
(Photo Credit: Nat Tileston)