---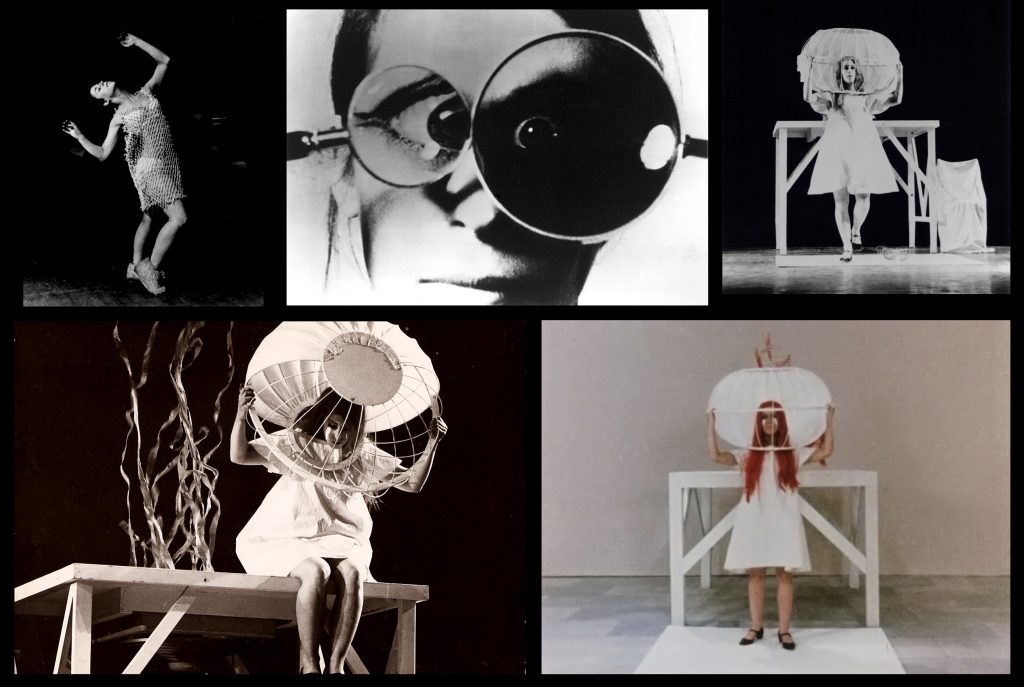 (left to right, top to bottom) Laurence B. Fink, Kenneth Van Sickle, Charlotte Victoria, Diane Dorr-Dorynek, Robert Withers (film still)
16 Millimeter Earrings (1966)

LIVE WORK:
Meredith Monk's groundbreaking performance work, 16 Millimeter Earrings, was a seamless integration of live performance, objects, film, vocal and instrumental music, movement, text, recorded sound, and light. It marked several, notable "firsts" for Monk: thinking of sound as an overall environment, working with her voice and visual images as primary elements, creating a full sound score, and incorporating film into a live work. The piece was a breakthrough in her quest to discover a visual/sonic/poetic performance form that could weave together multiple modes of perception. Responding to the original performances in 1966, art critic John Perrault wrote in the Village Voice, "Images, movement, film, words and sounds in Miss Monk's new work are so skillfully interwoven and inter-related that no description can substitute for the kind of magic that she has managed to produce. The whole stage is her canvas and she uses every bit of it. 16 Millimeter Earrings has to do with surfaces, all seen as if through glass or reflected in a mirror. The surface of the human body. The surface of the erotic and the emotional. The radical juxtaposition of apparently contradictory surfaces- film, flesh, colors, and sound- becomes a witty method of deliberation and deliverance, and of complete art."
Music, direction, costumes, film and objects by Meredith Monk
Cinematography: Kenneth van Sickle
Performed by Meredith Monk
16 Millimeter Earrings premiered at the Judson Memorial Church in New York City on December 5th and 6th, 1966, with subsequent performances in January 1967 at Hunter College, May 1967 at The Village Theatre, and February 1969 at Billy Rose Theatre, a division of the New York Public Library.

FILM:
The film version of 16 Millimeter Earrings by Robert Withers documents a 1977 reconstruction of the original performance. While Withers' filmic interpretation rearranges Monk's soundtrack, thus creating a different juxtaposition of sound and image from the original, it nevertheless captures the essence of this pivotal work— a prototype for interdisciplinary art.

Meredith Monk and Robert Withers, 1966/1977, USA, color/black and white, sound, 25 minutes, 16 mm.
Excerpt from 16 Millimeter Earrings film (1977)
The full-length film is available for online streaming HERE.
The film print can also be rented from the Film-Makers' Cooperative.

16 Millimeter Earrings (1966/1977) has screened at numerous festivals throughout the United States, Europe, and Japan, and won a Merit Award at the Dance Film Festival in New York City. It was also shown from June-September 1998, as part of Art Performs Life, a multidisciplinary exhibition featuring Meredith Monk, Merce Cunningham and Bill T. Jones at Walker Art Center; in May 1999 as part of Meredith Monk: Shrines at Frederieke Taylor Gallery; and in Spring 2002 as part of Five Theatre Artists at Exit Art Gallery. The film is part of the Walker Art Center's and MoMA's Permanent Collection.


INSTALLATION:

In 2010, the Walker Art Center acquired 16 Millimeter Earrings (1966/1998), the video/installation version of the work created for the 1998 Art Performs Life: Merce Cunningham/Meredith Monk/Bill T. Jones exhibition for their visual arts collection. From April-December 2016 it was on view in the Walker exhibition Less Than One.

Meredith Monk (USA, b. 1942). 16 Millimeter Earrings (1966/1998). Three channel video projection, table, fan, chair, nylon-wig, wood, metal, fabric, metal-spring toy, paper.


Interview with Siri Engberg, curator of visual arts at the Walker Art Center (2018)
Addresses the original performance work, Robert Withers' film, and Monk's installation work, from Archeology of an Artist (1996) to Bloodline Shrine (2018).



AUDIO:

"Greensleeves" and "Nota" from 16 Millimeter Earrings can be heard on the Tzadik release, Beginnings (2009), a collection of hand-selected archival recordings by Meredith Monk.

TO PURCHASE
MORE INFO


SELECT BIBLIOGRAPHY:

"16 Millimeter Earrings" by John Perrault; The Village Voice; December 15, 1966.

"16 Millimeter Earrings" by Arlene Croce; Ballet Review; Vol. 2, Number 5; April 1969.

"Monk/Neville: Judson Church" by Jacqueline Maskey; Dance Magazine; January 1967.

Meredith Monk (PAJ Books: Art + Performance); ed. Deborah Jowitt; Johns Hopkins University Press, Baltimore, 1997.

Jowitt, Deborah. "Meredith Monk in Conversation with Deborah Jowitt." Art Performs Life: Merce Cunningham, Meredith Monk, Bill T. Jones. Ed. Philippe Vergne, Siri Engberg, and Kellie Jones. Distributed Art Publishers, New York. 1998.

Highwater, Jamake. "Meredith Monk in Conversation with Jamake Highwater." Art Performs Life: Merce Cunningham, Meredith Monk, Bill T. Jones. Ed. Philippe Vergne, Siri Engberg, and Kellie Jones. Distributed Art Publishers, New York.1998.

"Wearing Three Hats: Process Notes from a Polymath". Envisioning Dance on Film and Video. ed. Judy Mitoma. Taylor & Francis, London. 2003.

Kloetzel, Melanie and Carolyn Pavlik. "Meredith Monk, Interview & Meredith Monk as Site Pioneer, 1969-1971". Site Dance: Choreographers and the Lure of Alternative Spaces. University Press of Florida, Gainesville, FL. 2009.

Marranca, Bonnie. Conversations with Meredith Monk. PAJ Publications. New York, NY. 2014.

Tallon, Jean-Louis. Meredith Monk: Une voix mystique. Editions Nouvelles Cecile Default. Nantes, France. 2015.

"Getting Down to the Bones: Meredith Monk and Deborah Jowitt in Conversation" by Deborah Jowitt; walkerart.org; May 18, 2016.