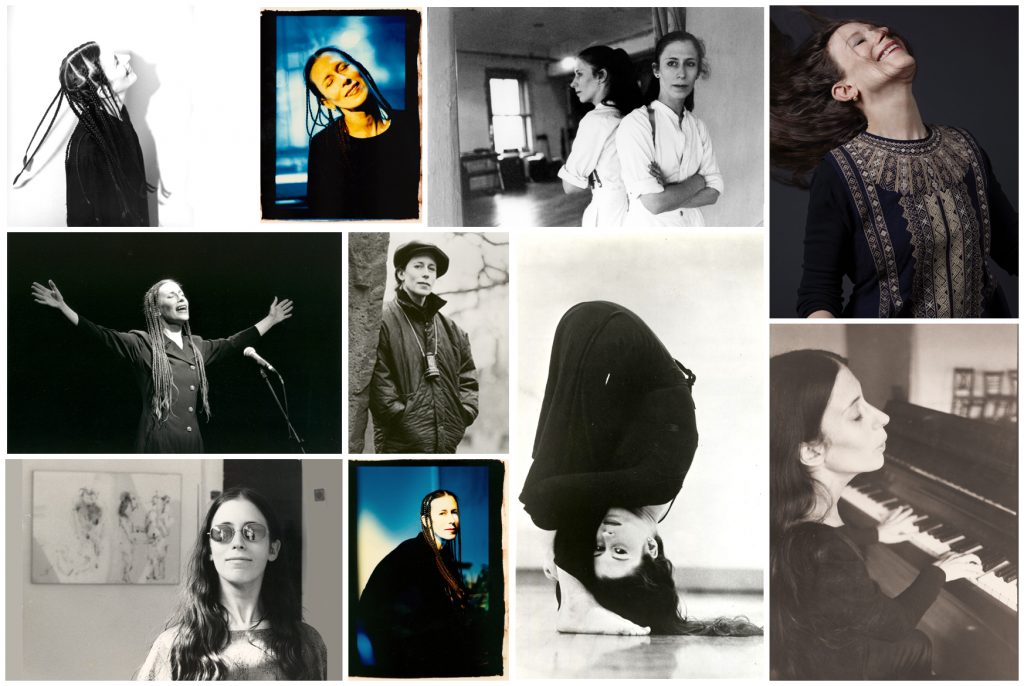 MEREDITH MONK (b. November 20, 1942, New York City) is a composer, singer, director/choreographer and creator of new opera, music-theater works, films and installations. Recognized as one of the most unique and influential artists of our time, she is a pioneer in what is now called "extended vocal technique" and "interdisciplinary performance." Monk creates works that thrive at the intersection of music and movement, image and object, light and sound, discovering and weaving together new modes of perception. Her groundbreaking exploration of the voice as an instrument, as an eloquent language in and of itself, expands the boundaries of musical composition, creating landscapes of sound that unearth feelings, energies, and memories for which there are no words. 

Celebrated internationally, Ms. Monk's work has been presented at major venues throughout the world. Over the last six decades, she has been hailed as "a magician of the voice" and "one of America's coolest composers." In conjunction with her 50th Season of creating and performing, she was appointed the 2014-15 Richard and Barbara Debs Composer's Chair at Carnegie Hall. Recently Monk received three of the highest honors bestowed to a living artist in the United States: induction into the American Academy of Arts and Letters (2019), the 2017 Dorothy and Lillian Gish Prize and a 2015 National Medal of Arts from President Barack Obama. 

After graduating Sarah Lawrence College in 1964, Monk moved to New York City and began creating work in galleries, churches, and mostly non-traditional performance spaces. In 1968 she founded The House, a company dedicated to an interdisciplinary approach to performance. As a pioneer in site-specific work, she was the first artist to create a piece in the rotunda of the Solomon R. Guggenheim Museum (Juice, 1969), later reconstructing portions of the work for a new piece (Ascension Variations, 2009). Other site-specific pieces include American Archeology #1: Roosevelt Island (1994) and Songs of Ascension (2008) for visual artist Ann Hamilton's tower. As a filmmaker, Monk has created several award-winning films including Ellis Island (1981) and her first feature, Book of Days (1988), which have screened at numerous film festivals worldwide and on PBS. The restored film of her seminal work, Quarry: An Opera in Three Movements (1976), is now available for streaming. Her films, installations and drawings have been shown in museums and galleries including Exit Art, Frederieke Taylor Gallery, in two Whitney Biennials, and at the Walker Art Center. Monk's short films and several of her drawings are also included in the collection at MoMA. 

In 1965, Monk began her innovative exploration of the voice as a multifaceted instrument, composing solo pieces for unaccompanied voice and voice and keyboard. In 1978 Monk founded Meredith Monk & Vocal Ensemble to expand her musical textures and forms. She has made more than a dozen recordings, most of which are on the ECM New Series label, including the 2008 Grammy-nominated impermanence and the highly acclaimed On Behalf of Nature (2016). Selected scores of her work are available through Boosey & Hawkes. In addition to her numerous vocal pieces, music-theater works and operas, Monk has created vital new repertoire for orchestra, chamber ensembles, and solo instruments, with commissions from Carnegie Hall, Michael Tilson Thomas/San Francisco Symphony and New World Symphony, Kronos Quartet, Saint Louis Symphony Orchestra and Los Angeles Master Chorale, among others. In 2019 a new production of her work, ATLAS: an opera in three parts (1991), was directed by Yuval Sharon and presented by the Los Angeles Philharmonic. Her music can also be heard in films by such directors as Terrence Malick, Jean-Luc Godard, David Byrne, and the Coen Brothers.

Monk's numerous honors and awards include the prestigious MacArthur Fellowship, two Guggenheim Fellowships, three "Obies" (including an award for Sustained Achievement), and two "Bessie" awards for Sustained Creative Achievement. More recently Ms. Monk was named one of National Public Radio's 50 Great Voices, the 2012 Composer of the Year by Musical America, and an Officer of the Order of Arts and Letters by the Republic of France. She also received a 2020 John Cage Award, 2012 Doris Duke Artist Award, a 2011 Yoko Ono Lennon Courage Award for the Arts, and an inaugural USA Prudential Fellow award in 2006. Monk holds honorary Doctor of Arts degrees from Bard College, Boston Conservatory, Concordia University, Cornish College of the Arts, The Juilliard School, Lafayette College, Mount Holyoke College, San Francisco Art Institute, University of the Arts, and University of Hartford. 

Among the many highlights of Monk's performances from the last twenty-five years is her Vocal Offering for His Holiness the Dalai Lama as part of the World Festival of Sacred Music in Los Angeles in October, 1999. Several marathon performances of her work have taken place in New York at the World Financial Center (1991), Lincoln Center Music Festival (2000), Carnegie's Zankel Hall (2005 and 2015), Symphony Space (2008) and the Whitney Museum (2009). In February 2012, MONK MIX, a cd of remixes and interpretations featuring 25 artists from the jazz, pop, dj and new music worlds was released. She is the subject of two books of interviews, Conversations with Meredith Monk, by arts critic and Performing Arts Journal editor Bonnie Marranca, and Une voix mystique, by French author Jean-Louis Tallon. Currently Monk is developing Indra's Net, the third part of a trilogy of music-theater works exploring our interdependent relationship with nature, following the highly acclaimed On Behalf of Nature (2013) and Cellular Songs (2018).


Photo Credit: Top (left to right): Bunko, F. Scott Schaefer, Lois Greenfield, Julieta Cervantes, Middle (left to right): Massimo Agus, Dominique Lasseur, Gary Gladstone
Bottom (left to right): Unknown, F. Scott Schaefer, Gary Gladstone, Lauretta Harris