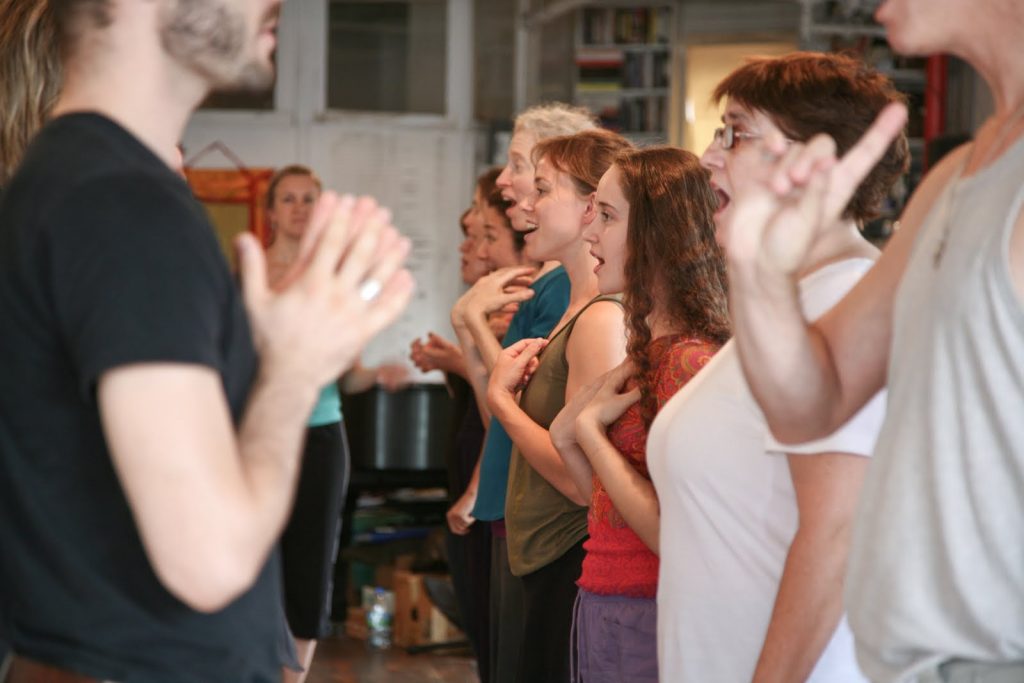 Photo by Tara Cassady

VOCAL ENSEMBLE WEEKEND WORKSHOPS
As of July 2022, we have resumed our biannual, in-person workshops with members of Meredith Monk & Vocal Ensemble, following current Covid protocols. Each of the instructors has been working with Meredith Monk on average for 30 years. Reflecting diverse backgrounds and interdisciplinary approaches to performance, Vocal Ensemble members past and present share Monk's process for creating work. Beginning with breathing techniques and a detailed vocal and movement warm-up, participants work with the voice and body as multifaceted instruments for exploring range, timbre, gesture, resonance, character, landscape and rhythm. The work aims to uncover the fundamentals of performance as a vehicle for spiritual transformation. Selected pieces from Meredith Monk's repertoire will also be taught.

Dancing Voice/Singing Body
Summer 2023 – NEW In-Person Vocal Ensemble Weekend Workshop!

July 14 – 16, 2023
Friday-Sunday
10:30 am-1pm & 2:30pm-5pm
Meredith Monk's Loft, Tribeca, New York City
Workshop fee: $425
Single Day: $150

With Tom Bogdan, Janis Brenner, Allison Easter, Ellen Fisher, and Katie Geissinger*

To Register click here.



For Workshop Registration Via Check/Money Order, mail to:
The House Foundation for the Arts, Inc.
260 West Broadway, Suite 2
New York, NY 10013

Acceptance into the workshop is on a first-come, first-served basis. Once payment has been received, you will receive a confirmation email of your spot. Please note our Covid policy below.

Goals:
To find a balance of structure and spontaneity, freedom and form.
To begin to build the "feel" of an ensemble, both in rehearsal and performance.
To provide a springboard from which participants can discover and develop a personal viewpoint and means of expression.
More Info:
The workshop is open to all experiences and backgrounds.
Participants should wear clothing and shoes allowing for ease of movement.
15 Students Maximum.
Workshops may be filmed, strictly for archival purposes.

"The experience allowed me to appreciate Monk's work on a deeper level."
"Each day was miraculous…it opened me up to possibility."
"The workshop exceeded my expectations. The teachers were all phenomenal."

*Please note, Meredith Monk does not teach during this program offered by The House Foundation. Teachers are also subject to change.



Covid Policy
All participants will be required to provide proof of:
full vaccination (includes 1 booster)
a negative Covid test result, provided up to 72 hours prior to participation
daily testing with a negative result at home prior to coming to the workshop each day, together with filling out an online health survey
masks will be welcomed but optional if participants fulfill above requirements

Refund Policy
Cancellation 3 weeks or more before the start of the workshops: The House Foundation will refund 100% of payment. Within 3 weeks but more than 7 days before the workshops, under extenuating circumstances: 50% of payment will be refunded or moved toward payment for a future workshop. Cancellation less than 7 days from the start of the workshop: payment is non refundable, unless you receive a positive Covid result within 72 hours of the start of the workshop or have knowingly been exposed to someone who is positive, then 100% of payment will be refunded or moved toward payment for a future workshop.

Pablo Vela Memorial Scholarship
We are honored to offer a bi-annual full scholarship for one participant in honor of Pablo Vela (1923-2021), who taught and oversaw workshops with members of the Vocal Ensemble for nearly forty years. A beloved member of The House, beginning with Quarry: an opera in three movements (1976), Pablo was an extraordinary performer, phenomenal teacher, loving friend, and grandfather to us all. This scholarship will be awarded to a student or early career artist pursuing the performing arts, with a personal income of no more than $40,000. Priority will be given to BIPOC and those who identify as LGBTQ+.

To apply, please email Peter Sciscioli at sciscioli@meredithmonk.org and include:
A little about yourself and your current involvement in the performing arts.
Any familiarity you have of Meredith Monk's work.
What this scholarship and participation in the workshop may mean to you.

Deadline: June 28, 2023

FRIDAY, JULY 14, 2023
AM Ellen Fisher
Ellen Fisher's session will be movement based, using some of Meredith's language of gestural shaping. There will be group improvisations as well as simple solo & group choreographic problem solving, using terminology of rituals, rites and trance dance.
PM Katie Geissinger
Katie Geissinger will lead an extensive vocal warm-up, exploring relaxation, breathing, flexibility, ease of production, and expressivity. The session will address the particular vocal demands of selected Monk repertoire, and will include canoning, hocketing, and voice and movement exercises. Participants will also work on small group improvisations using Monk material.

SATURDAY, JULY 15, 2023
AM Ellen Fisher & Katie Geissinger
For this session, Ellen and Katie will offer a combined approach to Meredith's work involving the "dancing voice/singing body," sharing perspectives from more recent pieces such as Indra's Net, Cellular Songs and/or On Behalf of Nature.
PM Tom Bogdan
Tom Bogdan will deal with a simple approach to voice production and teach a basic tour of exercises to help with breathing, resonance, range and color. He'll also teach a round, do an improvisatory exercise and work on one of Meredith's pieces, Panda Chant II, Quarry Weave, or other.

SUNDAY, JULY 16, 2023
AM Janis Brenner
Janis Brenner's session will include a brief physical warm-up, and a vocal warm-up with the teaching of a song to be sung in "round", then enhanced and transformed with movement. This will lead into movement/voice integration through structured improvisations and character development. A piece involving voice and movement from Meredith's repertoire may also be explored.
PM Allison Easter
Allison Easter will focus on movement integrated with singing; a movement warmup influenced by Laban/Bartenieff work and Irene Dowd, to improve clarity, strength and expressiveness in the body and ensemble vocal techniques including hockets and singing in rounds. The session will include Monk repertory and creative work influenced by Quarry, A Celebration Service, Indra's Net and other pieces.

If you are interested in bringing a Vocal Ensemble Workshop to your school, home, or place of business please contact Peter Sciscioli at sciscioli@meredithmonk.org.


Vocal Ensemble Instructors Include:

Tom Bogdan teaches voice at Bennington College and has worked with Meredith Monk since 1991. Ms. Monk wrote New York Requiem especially for him. Tom has received critical acclaim for his performances in Concert, Opera, Recital, Cabaret and his own interdisciplinary pieces, L'Amour Bleu and Tell Me The Truth About Love, both produced by Danspace Project, NYC. Of his many recordings his favorites include Monk's ATLAS, Tom Bogdan's L'Amour Bleu, a gay celebration of love, and his For Your Delight with pianist Harry Huff. He has received Fulbright awards to teach Monk's A Celebration Service to students in Manila, Philippines, a Hungarian Ensemble in Budapest and in São Paulo, Brazil, and most recently directed productions in Kiev, Ukraine and at the University of Montana. Bogdan's CD Hungarian Folk Songs by Bartók and Kodály is available on Centaur Records.

Janis Brenner is an award-winning dancer/ choreographer/singer/ teacher/ collagist and is Artistic Director of Janis Brenner & Dancers in N.Y. She has toured in 36 countries and is recognized as a "singular performer" with a multifaceted artistic range receiving numerous honors/grants from the US State Dept., The Trust for Mutual Understanding, Asian Cultural Council, The Fund for US Artists, and UNESCO, for tours in Russia, Indonesia, Senegal, Taiwan. Janis joined Meredith Monk in 1990 for ATLAS, receiving a group "Bessie" award for The Politics of Quiet in 1997. She has performed an acclaimed suite from Monk's Songs from the Hill in concert and in 2009, revived Monk's seminal 1964 solo Break for JB&D's NY season at Joyce SoHo. Her classes / workshops in improvisation, choreography, repertory and movement/voice have been taught throughout the world. She was on the faculty at The Juilliard School serving as Choreographic Mentor and Creative Process instructor. Her most recent work has taken her to China, Bosnia, Macedonia, Stockholm, and Singapore. She won a 2017 "Best Choreography" award from the United Solo Festival Off-Broadway, then premiered her interdisciplinary, full-length solo, Inheritance: A Litany at the festival in 2018 which received "Best Production", "Best Composer" and "Best Lighting Design" awards and the Critics' Choice Award from "All About Solo" in 2019. Her new one-woman show, She Remembers her Amnesia premiered in November in NYC. Formerly, Ms. Brenner was a soloist with the Murray Louis Dance Company, working with Rudolf Nureyev, Placido Domingo, Dave Brubeck Quartet, Joseph Papp, Bat Sheva Dance Company, and Alwin Nikolais. Ms. Brenner had her debut visual art exhibit this past March at Susan Eley/Fine Art in NYC. www.janisbrenner.com

Allison Easter has worked with Meredith Monk since the 1985 revival of Quarry. As a member of Meredith Monk & Vocal Ensemble, she has sung on recordings, toured the US, Europe, Asia, and received a "Bessie" Award for The Politics of Quiet. She directed the chorus of Quarry in the 2003 Spoleto Festival. She was the first American woman to appear in the Off-Broadway percussion sensation STOMP. She played Vengeance in Will Pomerantz's A Tale Of Two Cities, Jerri Lewis in Tony Zertuche's Anchors, Ms. Porgy in the feature Vacuums, Anita Chambers on Law & Order, and danced with Susan Marshall and Company receiving a special mention in The Village Voice. Recently she toured with Jane Comfort and also appeared in Michelle Dorrance's "Rhythms of Being" created for five STOMP veterans. She has produced and directed original works at Ensemble Studio Theatre, the NY Fringe Festival, and has taught dance and performance at Bennington College, Naropa Institute, Marymount Manhattan College, Pace University, Sarah Lawrence, Horace Mann High School, NYU-Tisch and more. Allison has also taught in the Meredith Monk & Vocal Ensemble education program at Bard HSEC, LOMA (Lower Manhattan Arts Academy), and has staged the Folk Dance from Monk's A Celebration Service worldwide, from Syracuse NY, Budapest, and Kiev to the Philippines. She currently teaches Pilates for Dancers at Barnard College and Music & Movement at Bank Street School of Education.

Ellen Fisher is a movement-based performance artist whose work integrates gestural actions with visual elements such as film and shadow play. Ellen's performance work is informed by her ethnographic research in the rituals and trance dances of South Asia, particularly Sri Lanka, for which she has received ACCNY grants and a Fulbright. She has also been granted funding for her solo work from the NEA, NYFA, and Jerome Foundation, among others. Ellen began performing with Meredith Monk/The House in the 1970s, and continues today. She and Katie Geissinger have led the Meredith Monk & Vocal Ensemble education program involving New York City high school students since 2009. Ellen also teaches and lectures regularly on dance both domestically and internationally.

Katie Geissinger has been performing with Meredith Monk since 1990, in pieces such as ATLAS, The Politics of Quiet (for which she is a Bessie Award recipient), WEAVE with the St. Louis Symphony, and the Grammy-nominated impermanence. She recently toured Europe with MEMORY GAME (with the Bang on a Can All-Stars), and Cellular Songs, and will premiere Indra's Net this June in Amsterdam. Katie premiered Bang on a Can's OBIE Award-winning The Carbon Copy Building and performed in the second world tour of Philip Glass and Robert Wilson's Einstein on the Beach. She has also appeared in Jonathan Miller's staged productions of Bach's St. Matthew Passion at BAM, in John Tavener's The Veil of the Temple at Lincoln Center, and in Ann Hamilton's the event of a thread, with music by David Lang, at the Park Avenue Armory. Katie's Broadway credits include Baz Luhrmann's production of La Boheme and Coram Boy, and she has appeared off-Broadway in many Gilbert and Sullivan operettas. Katie has premiered many new music theater pieces, including works by Mark Mulcahy, Ben Katchor, Philip Miller, Julia Wolfe, Aaron Siegel, Marisa Michelson, and Anne Bogart. Her teaching experience ranges from choral work in Estonia and San Francisco to workshops at Naropa, MASS MoCA, Oberlin, Berklee, the Weill Music Institute at Carnegie Hall, Scuola Malagola in Ravenna, Damascus, and LaGuardia High School for the Performing Arts. She will be performing in Pam Tanowitz's Song of Songs with music by David Lang in London this fall.