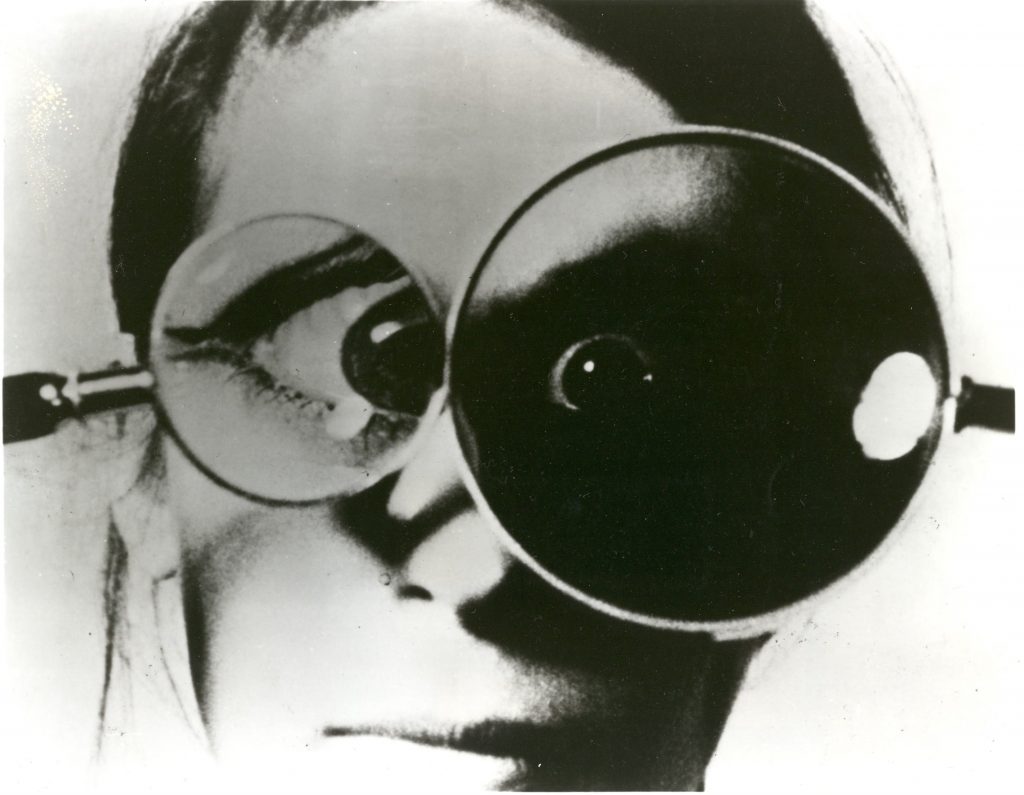 ---
16 Millimeter Earrings (1966)
16 Millimeter Earrings is a multi-dimensional, multi-perceptual poetic performance work. It was a seamless integration of live performance, objects, film, vocal music, movement, text, recorded sound and light.
This work explores the relationship of live singing to recorded sound, and the relationship of live performance and images to film. Different realities exist within one piece. Media transforms, distorts, and modifies live elements. It also uses "film as sculpture" by projecting on various surfaces to form sculptural objects. Additional themes explored in the piece include scale, layers, character/persona, perceptual worlds, centers (i.e. intellectual, spiritual, physical, emotional, intuitive, sensual), scale, and repetition/trance. The work also plays with the idea of "visual rhymes," such as the use of red in the flames (paper and film), the red wig, and red slinky.
Robert Withers' 1977 rendering of the piece, rearranges Meredith Monk's soundtrack, thus creating different juxtapositions of sound and image from the original. This manages to capture the essence of this pivotal work, a prototype for interdisciplinary and performance art.
The original Performance of 16mm was in 1966. Meredith Monk choreographed, wrote the score, and designed the short film sequences that were projected during the performance.
The Robert Withers film was released in 1980. It is 25 minutes long. In 16mm color. It was produced, directed, and photographed by Robert Withers.
---
"Images, movement, film, words and sounds in Miss Monk's new work are so skillfully interwoven and inter-related that no description can substitute for the kind of magic that she has managed to produce. The whole stage is her canvas and she uses every bit of it."
-Art Critic John Perreault, Village Voice Dec. 1966
---
The live performance version of 16 Millimeter Earrings was performed at Judson Church on December 5 and 6, 1966, in January, 1967 at Hunter College, on May 10, 1967 at The Village Theatre, and in February 1969, at Billy Rose Theatre, a division of the New York Public Library.
The film version of 16 Millimeter Earrings was shown June-September, 1998, as part of Art Performs Life, a multidisciplinary exhibition featuring Meredith Monk, Merce Cunningham and Bill T. Jones at Walker Art Center. In May 1999, it was shown as part of Meredith Monk: Shrines at Frederieke Taylor Gallery. In Spring 2002, it was shown as part of Five Theatre Artists at Exit Art Gallery. The film is part of Walker Art Center's Permanent Collection.

Press:
Grace Glueck Review for The New York Times
New York Times Review from NYT Archive (different format from above)