current
part of Meredith Monk and Vocal Ensemble's current repertory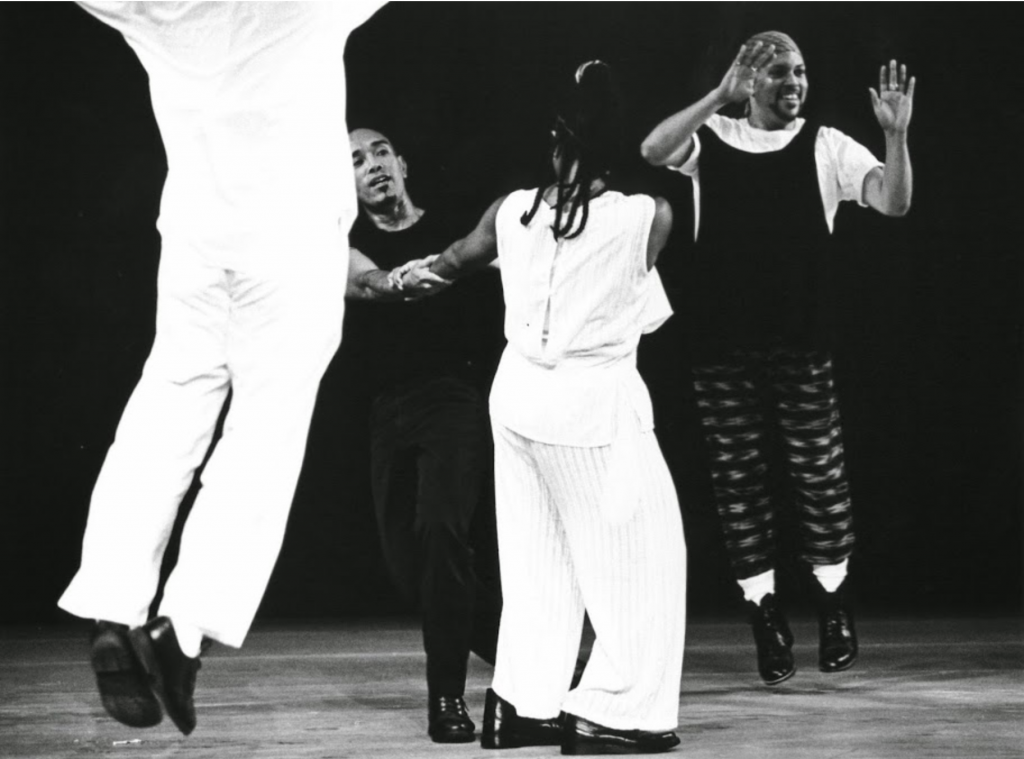 Randall Wong, Ching Gonzalez, Allison Easter and Carlos Arévalo performing the Folkdance from A Celebration Service (1996) Photo by Vergile Bertrand
A Celebration Service – A Community Project
Created to commemorate the new millennium, A Celebration Service evokes the universal quest for spiritual renewal and eternal beauty in the form of a luminous "service/performance". Drawing from 30 years of her musical compositions and from spiritual traditions spanning centuries and cultures, Meredith Monk interweaves her songs, chants and original choreography with readings drawn from Buddhist texts, Hasidic sayings, Zen poetry, African and Native American prayers and a Christian prayer by Hildegard von Bingen in this celebration of community and the search for meaning and connection through ritual. The cast is drawn from local community members— singers, readers, dancers and keyboardists—and is directed by long-time member of Meredith Monk & Vocal Ensemble, Tom Bogdan, with rehearsal direction for the dancers by Vocal Ensemble member Allison Easter, in consultation with Ms. Monk.
Commissioned by the Union Theological Seminary, A Celebration Service premiered in 1996 for the American Guild of Organists at James Memorial Chapel, Union Theological Seminary, NYC, with subsequent performances at the Spoleto Festival, Charleston, SC; Walker Art Center/First Unitarian Society, Minneapolis, MN; and Danspace Project, New York, NY.
The community project production directed by Vocal Ensemble member Tom Bogdan has received performances beginning in 2003 in Budapest, Hungary; São Paulo, Brazil; Manila, Philippines (all with support from a Fulbright Grant); and Kiev, Ukraine, as well as Bennington College, Naropa University, Syracuse University, and most recently, the University of Montana (2017).
For bookings, contact: Kirstin Kapustik, Executive Director
---
"…a masterpiece of spiritual beauty, simplicity, and love."-T.J. Medrek, Boston Herald, 1999
---

Performance of the original production of A Celebration Service with Meredith Monk & Vocal Ensemble at Danspace Project, St. Mark's Church, NYC (1999)

Behind the scenes with Tom Bogdan for a production of A Celebration Service at Bennington College (2016)