current
part of Meredith Monk and Vocal Ensemble's current repertory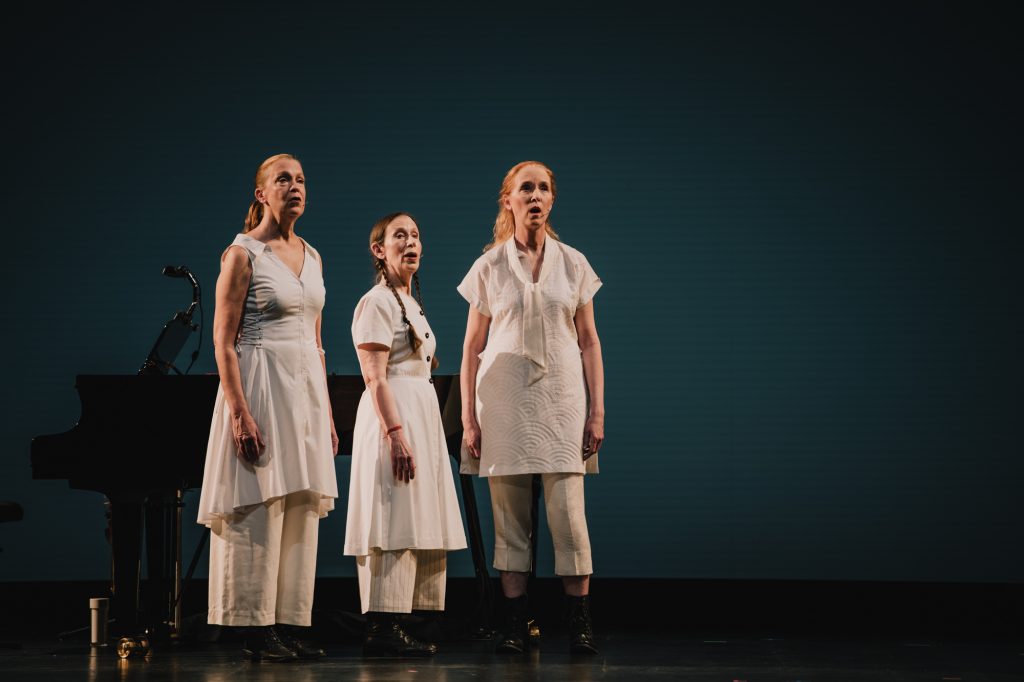 Photo by David Gallard
Cellular Songs: Concert Version (2018)
Meredith Monk presents a concert of music from her music-theater work, Cellular Songs, with the women of her acclaimed Vocal Ensemble. A "deeply affecting meditation on the nature of the biological cell as a metaphor for human society" (Financial Times), Cellular Songs features some of Monk's most adventurous and daring music for the voice to date, paired with violin, piano and keyboard. Over the course of the evening, shimmering, multi-dimensional musical forms evoke such biological processes as layering, replication, division, and mutation. Cellular Songs premiered to sold-out audiences at the Brooklyn Academy of Music in March 2018.

Meredith Monk, voice and keyboard
Ellen Fisher, voice
Katie Geissinger, voice
Joanna Lynn-Jacobs, voice
Allison Sniffin, voice, violin and keyboard

Costume Design Yoshio Yabara
Lighting Design Joe Levasseur
Sound Design Eli Walker
Video Scenarios Meredith Monk
Video Design Katherine Freer
Cinematography Ben Stechschulte
Cellular Songs: Concert Version and selections from the piece have been performed at Zankel Hall at Carnegie Hall, New York, NY; West Kortright Center, East Meredith, NY; Danspace Project at St. Mark's Church, New York, NY; (le) Poisson Rouge, New York, NY; Big Ears Festival, Knoxville, TN; Hirshhorn Museum, Washington, D.C.; University of Rochester, Rochester, NY; The Hartt School, West Hartford, CT; Elbphilharmonie, Hamburg, Germany; Approximation Festival, Tanzhaus NRW, Düsseldorf, Germany; Carolina Performing Arts, Chapel Hill, North Carolina; Rewire Festival, the Hague, the Netherlands; Le Lieu Unique, à l'opéra Graslin, Nantes, France; Philharmonie de Paris, Paris, France; Philharmonie Luxembourg, Luxembourg.

For bookings, contact: Kirstin Kapustik, Executive Director


---
"As [Monk] sang, there was a palpable sense of love and joy between her and the audience that spoke volumes. An antidote to the troubled times we live in."
-Virginia Webb, Financial Times
---


ACKNOWLEDGEMENTS:

Cellular Songs has received developmental support through residencies at Grace Farms in New Canaan, CT (January 2018), at Wesleyan University (November 2017) and at Jim Hodges' Queenslab (June 2017).

Commissioning funds for the development of Cellular Songs were provided by the Brooklyn Academy of Music.

Cellular Songs is supported in part by the National Endowment for the Arts, New York State Council on the Arts, the NYC Department of Cultural Affairs, the Goodale Family Foundation, Bloomberg Philanthropies, Howard Gilman Foundation, The James E. Robison Foundation, Aaron Copland Fund for Music, Gladys Krieble Delmas Foundation, True North Fund, Dunlevy Milbank Foundation, Amphion Foundation, Hechinger Family Charitable Gift Fund, Jewish Communal Fund, and The Nathan Cummings Foundation.

Additional support from Cellular Songs Producers Circle: Roberta Amon, Haruno Arai, Katherine Bradford, Jonathan Caplan, Anthony B Creamer III, Molly Davies and Polly Motley, Dick Denison and David Salkin, Bobbie Foshay, Fredericka Foster, Gladstone Gallery, Katherine Goodale, Glenn Fuhrman, Augusta Gross, Agnes Gund, Jim Hodges, Steven Holl, Alex Katz, James Kelly, Katherine Klutznick, Dorothy Lichtenstein, Anthony Meier Fine Arts, Cole Rogers and Carla McGrath, Karen Nielsen, Laura Owens, Stephan Palma, Meredith Palmer, Lora Reynolds, Jonathan F. P. Rose, Jane Saks, Ruth Lande Schuman, Sheehan Gallery, Elynne Skove, and Frederieke Taylor.