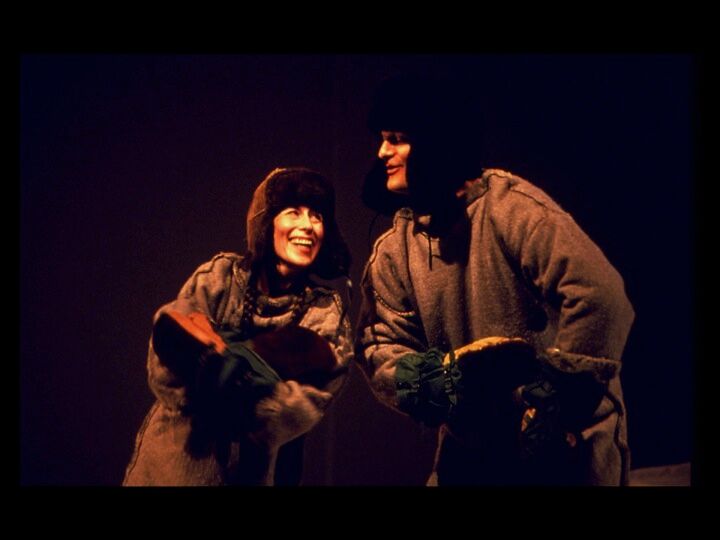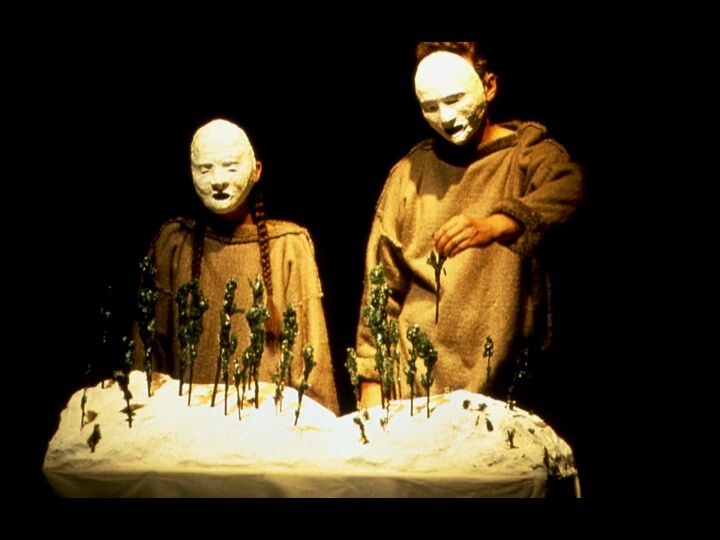 ---
Facing North (1990)
Facing North premiered in 1990 as a chamber music/theater piece evoking a barren northern wilderness and the fortitude and tenderness of two people surviving within it. Ensconced in the snowy woods of Banff, Canada, Meredith had originally set out to develop her new opera, Atlas, when she composed Facing North. There was a magical aspect to a landscape so silent where the snow drifted continuously from the Rocky Mountains and where elk, mule deer, coyote, and squirrels made sudden starting appearances. It all seemed a world away from New York, and Monk at once began to write a cappella vocal pieced in response to the environment: "I tried to evoke the eye, mental, bracing clarity of the northern landscape. I realized then that north is also a state of mind." Robert Een, a longtime member of Monk's Vocal Ensemble was invited to collaborate on the realization of Facing North and he contributed his own wintry perspectives (childhood memories of snowbound Minnesota, family roots in Norway). Though they had worked together for 15 years, this was their first undertaking as a duo. Their closeness in rehearsal seemed to symbolically appropriate Facing North's "theme" the "fortitude and tenderness" of a man and woman surviving in a barren wilderness and sharing both the struggle and the pleasures of solitude. One could be tempted to look for echoes of Lapp or Eskimo singing in these northern-directed pieces of Monk's but the work underlies Monk's contention that there are "landscapes within the voice," as her sound explorations find intuitive correspondences with the shared attributes of "the world vocal family."
Facing North premiered in 1990 as a chamber music/theater piece evoking a barren northern wilderness and the fortitude and tenderness of two people surviving within it.
Performers include Meredith Monk, Robert Een, Theo Bleckmann, Dina Emerson, Tony Giovannetti, and Debby Lee Cohen.
Facing North was performed at The House Loft, NYC; West Kortright Centre, East Meredith, New York; The Danspace Project, St. Mark's Church, NYC; UCLA, Los Angeles, CA; Laforet Akasaka, Tokyo, Japan; Black Box Theater, Oslo, Norway; Mythos Festival, Philadelphia, PA; Trinity College, Hartford, CT; Festival d'Automne, Paris, France; District Curators, Washington, DC; Carl Orff Saal, Munich, Germany; Fabrik, Hamburg, Germany; Kurhaus, Hall in Tirol, Austria; Wisconsin Union Theater, Madison, WI; Kaufman Auditorium, Northern Michigan University, Marquette, MI; The Clark Theater at Lincoln Center, NYC; Théâtre de Vevey, Vevey, Switzerland; and Novell Hall, Taipei, Taiwan.
Facing North was made possible, in part, by a grant from the National Dance Residency Program (NDRP), a program underwritten by the Pew Charitable Trusts and administered at the New York Foundation for the Arts.
Press: https://drive.google.com/file/d/1-6H7E-gngORNbdNJcEZ6CpUNm2jX65eH/view?usp=sharing