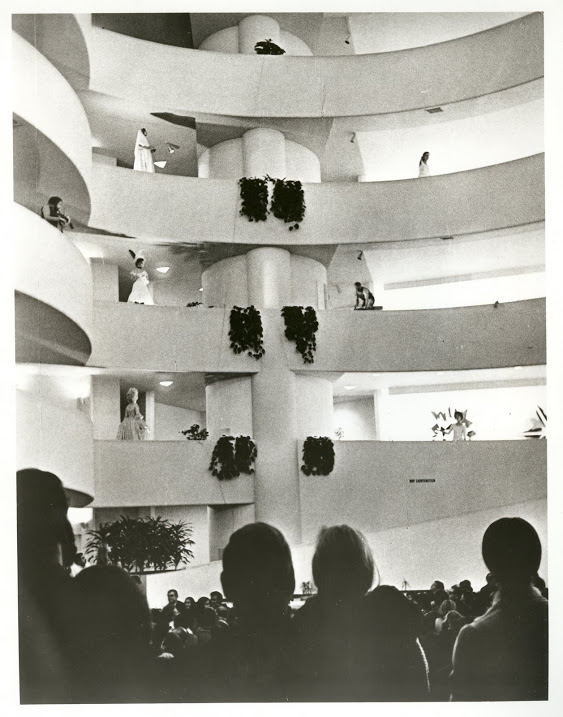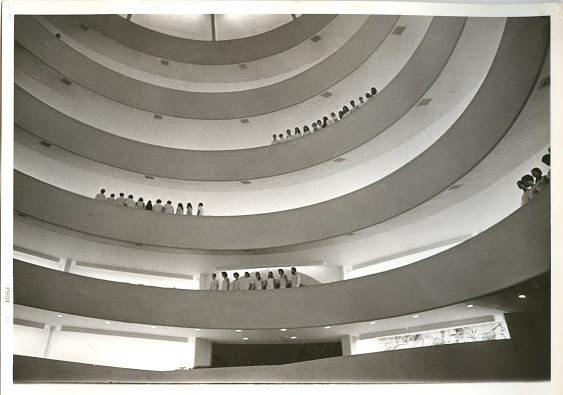 ---
Juice: A Theater Cantata (1969)
Juice: A Theatre Cantata in Three Installments was proposed for the Guggenheim Museum, a building designed by Frank Lloyd Wright. It was a culmination of a series Meredith Monk worked on in which she created site-specific works for museums, including Tour: Dedicated to Dinosaurs at the Museum of Natural History in Washington, D.C. and Tour 2: Barbershop at the Museum of Contemporary Art in Chicago (both took place in 1969). The work was arranged in three installments, which expanded upon the time-based properties of the work.
The first installment of the work premiered at The Guggenheim Museum in 1969. The second installment took place at Barnard College's Minor Latham Playhouse from November 29 to December 1. The work concluded at Monk's downtown loft on December 7.
---
"Even after forty-five years, Juice feels remarkable not just for its ethereal beauty but for how profoundly it reconfigured the audience-performer relationship within a specific architectural setting. Along with her unique extended vocal technique, these elements became integral to Monk's groundbreaking practice that blends music, dance, film, and theater."
-Nat Trotman for Guggenheim.org, 2014
---
Performers include Dick Higgins, Susan Larrison, Madelyn Lloyd, Meredith Monk, David Schiller, Daniel Sverdlik, Monica Mosely, and Micheal Butel.
Juice was performed at The Solomon R. Guggenheim Museum, NYC; Minor Latham Playhouse, NYC, The House Loft, NYC
Juice was sponsored by the Creative Arts Group, Foundation for Contemporary Performance Arts, the Lena Robbins Foundation, and Miss Audrey Marsh.

Press:
Artforum interviews with Meredith Monk (2013)
The Peak review, Marcia Kredentser, 1981
Dance News review, Jennifer Danziger, 1969 
---
Link to read more:
The Idea of Compression: Meredith Monk's Juice (1969)