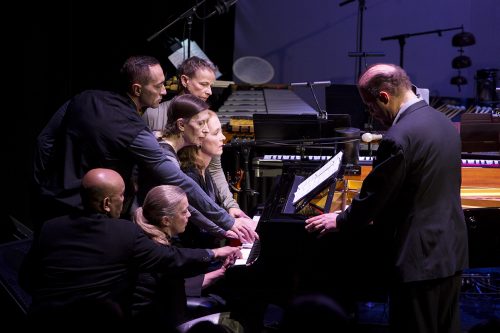 Photo courtesy The Arts Center at NYU Abu Dhabi
Meredith Monk & Vocal Ensemble: 50 Years of New Music
Meredith Monk's visionary fusion of sound and movement is as daring now as it was when she debuted over 50 years ago. Her influence on musicians both in and beyond the world of classical composition can be felt in the work of artists as varied as pop icon Björk, jazz experimentalist John Zorn, and innovative electronic composer DJ Spooky. This historic concert includes selections from several of Monk's more recent works — On Behalf of Nature, impermanence, and mercy — alongside classics from earlier decades, offering an expansive view of Monk's 50 years of making music. Of particular significance is that most of the people interpreting these works are those who performed them originally. Meredith Monk is joined by the extraordinary vocalists and instrumentalists who make up her ensemble.
Meredith Monk, voice and keyboard
Theo Bleckmann, voice and keyboard
Ellen Fisher, voice
Kate Geissinger, voice
Ching Gonzalez, voice
Allison Sniffin, voice, violin, French horn and keyboard
Bohdan Hilash, woodwinds
John Hollenbeck, percussion

Repertoire includes:
Selections from Juice, Songs from the Hill and Light Songs, Gotham Lullaby, Choosing Companions, Hips Dance, Panda Chant 1, Hocket, Selections from mercy, impermanence and On Behalf of Nature.
---
"Monk has mapped a world that never quite existed in the history of the arts. At once visceral and ethereal, raw and rapt, her works banish the spurious complexities of urban life and reveal a kind of underground civilization, one that sings, dances, and meditates on timeless forces." — Alex Ross, The New Yorker
---