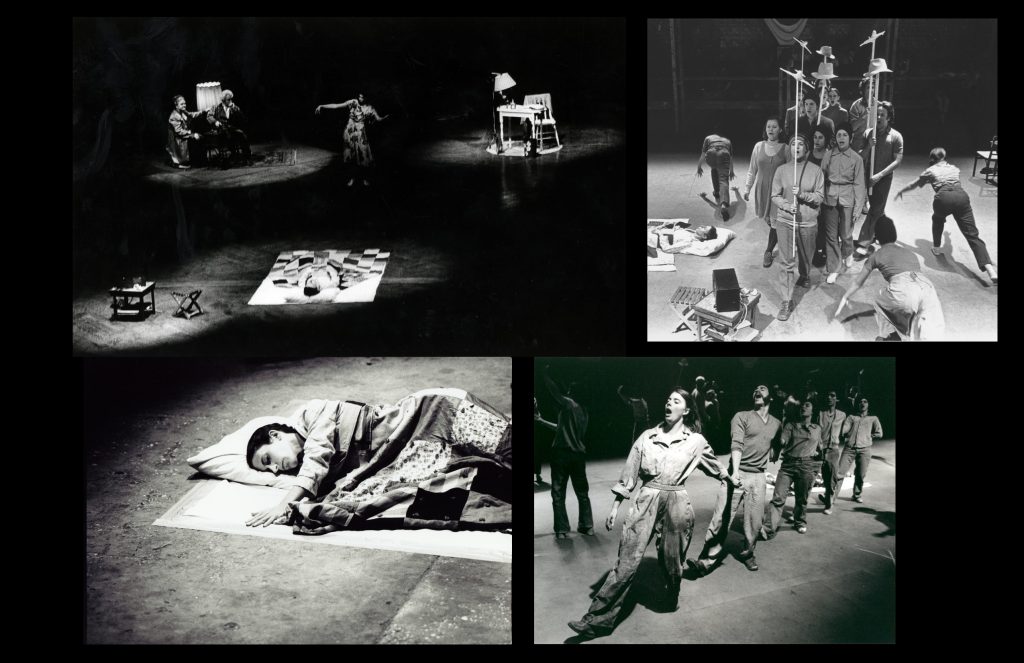 QUARRY: AN OPERA IN THREE MOVEMENTS (1976)
---
LIVE WORK:
Quarry: an opera in three movements, composed, directed and choreographed by Meredith Monk, is a mosaic of music, images, movement, dialogue, film, sound and light, and premiered at La Mama ETC in New York City in 1976. The three movements are "Lullaby," "March" and "Requiem." It won an OBIE Award in 1976 and is considered by many to be a masterwork of the 20th Century, with revivals taking place in 1985 and 2003.
Quarry centers on the reverie of an American child sick in bed during World War II, a dream that gradually mutates into a nightmare. The child's illness is a metaphor for the darkness of a world at war. As described by Alan M. Kriegsman of The Washington Post, "Quarry immerses us in the atmosphere and tenor of the period of World War II, the emergence of Nazism, and the Holocaust…by [evoking] feelings, imagery and sensuous characteristics that are associated with these roots through the power of Monk's multimedia but non-literal treatment. What is most disturbing and urgent about seeing Quarry today is that it resonates with the most fearful anxieties and perils of our time."

Conceived, composed and directed by Meredith Monk
Realized by The House: Tone Blevins, Ping Chong, Steve Clorfeine, Larry Harrison, Monica Moseley, Lee Nagrin, Coco Pekelis, Mary Shultz, Daniel Ira Sverdlik, Gail Tuner, Pablo Vela
Original Chorus: John Bernd, Mabbie Buck, Sarah Chapelle, Margot Corrigan, Gaynor Coté, Avi Davis, Ellen Fisher, Ann Gentry, Ellen Goldsmith, Andrea Goodman, Jeannie Hutchins, Susan Marie Kampe, Paul Langland, Andrea Levine, John Miglietta, John Parton, Susan Schott, Amy Schwartzman, Gail Simon, Joshua Sippen, Chris Small, Monica Solem, Mark Sovocool, Laura Tierney, Tom Wilkinson, Cathy Zimmerman
Lighting: Beverly Emmons
Costumes: Larry Harrison and Steve Clorfeine
Decor and objects: Ping Chong and Jean-Claude Ribes
Black and white film segment directed by Meredith Monk
Camera and editing: David Gearey
Assistant Directors: Gail Turner and Ping Chong
Technicians for The House: Tony Giovannetti, Jean-Claude Ribes, Bob Seder, Karen Feinberg

Original Roles in the 1976 Production:
Maid…Coco Pekelis
Child…Meredith Monk
Organists…Steve Lockwood, Andrea Goodman
Woman in a flowered dress…Lanny Harrison
Man and woman with gray hair…Pablo Vela, Lee Nagrin
Three women at a table…Gail Turner, Monica Moseley, Mary Shultz
Old Testament couple…Tone Blevins, Daniel Ira Sverdlik
Visitor at the table…Ann Gentry
Clouds and street…Mabbie Buck, John Miglietta, Ellen Goldsmith, Jeannie Hutchins, Avi Davis, Ann Gentry, Paul Langland
Radio singer/announcer…Lanny Harrison
The Dictator…Ping Chong
His aide…Steve Clorfeine
Other dictators…Lanny Harrison, Tone Blevins, Pablo Vela, Daniel Ira Sverdlik, Monica Moseley

Quarry: an opera in three movements premiered at La Mama ETC in New York City in April 1976 followed by a tour in Italy to the International Music Theater Festival in Florence and The Venice Biennale, a run at the Lepercq Space at the Brooklyn Academy of Music (1976-77), and Walker Art Center in 1977. It received an OBIE Award for Outstanding Achievement in 1976. Revivals took place in 1985 at La Mama, the Kennedy Center, and in 2003 at the Spoleto Festival USA. A suite from Quarry with student casts was also presented at the New Mexico School for the Arts in 2015, and at the University of Michigan in 2016.

FILM:
The film version of Quarry, shot on 16mm in the Lepercq Space at the Brooklyn Academy of Music in January 1977, was directed by Amram Nowak and supervised by Meredith Monk, and includes her short silent film from 1975 of the same name. It was created in partnership with the New York Public Library for the Performing Arts as part of their initiative to document ground-breaking live performance for future restaging. In 2019 the film was restored by The House Foundation to DCP with 5.1 sound.
Quarry is as prescient and relevant today as it was when it was created with its portrayal of the deleterious effect of an autocratic society on the collective mind, body and spirit. It is at once a myth, a documentary and a memorial.
Quarry (1975)
5 ½ minutes, black and white, silent, 16mm
Conceived and directed by Meredith Monk
Camera and Editing by David Gearey
Quarry (1977) documentary film
82 minutes, black and white and color, sound, 16mm-to-DCP
Directed by Amram Nowak
Filmed under the supervision of Meredith Monk
Photographed by Jerry Pantzer and David Lerner
Edited by Bob Rosen and Adam Bernardi
Film Consultant: Ping Chong
Editorial Consultants: Lee Nagrin and Coco Pekelis
Filmed for the Jerome Robbins Film Archive, Dance Collection, The New York Public Library


---

Trailer for Quarry (1977)
---

The full-length 2019 restored film is available for online streaming HERE.
Various Q&As surrounding the release of the restored version of QUARRY can be found here:
Quarry Q&A with Meredith Monk and Sam Green, Facebook Live, June 25, 2020

Quarry Q&A with Meredith Monk and Jed Rapfogel, Anthology Film Archive, NYC, May 20, 2019

Quarry Q&A with Meredith Monk and Steve Smith, Metrograph, NYC, December 15, 2019


---

AUDIO:

Selections from Quarry can be heard on Airwaves (1977) One Ten Records; Do You Be (1987) ECM Records; Monk and the Abbess: The Music of Hildegard von Bingen and Meredith Monk (1966) BMG; Beginnings (2009) Tzadik; and Radio Songs (2014) The Sound of White Columns.

TO PURCHASE
MORE INFO on Airwaves
MORE INFO on Do You Be
MORE INFO on Monk and the Abbess
MORE INFO on Beginnings
MORE INFO on Radio Songs


---

OTHER:
Behind the scenes for a student production of "Suite from Quarry" at the University of Michigan in 2016
---

ARCHIVAL RECORDS:
Brooklyn Academy of Music (BAM), Brooklyn, NY
Venice Biennale, Venice, Italy

SELECT BIBLIOGRAPHY:
"Underwater All Islands Connect" by Deborah Jowitt; The Village Voice; April 26, 1976.
"We Cease To Be Victims Of The Past" by Arthur Sainer; The Village Voice; April 26, 1976.
"Meredith Monk Doesn't Make Mistakes" by Tom Johnson; The Village Voice; May 3, 1976.
"The Storm Is In The Eye" by Marcia B. Siegel; Soho Weekly News; April 22, 1976.
"About Quarry, About Meredith Monk" by Sally Banes; The Soho Weekly News; December 16, 1976.
Banes, Sally. "Meredith Monk: Homemade Metaphors". Terpsichore in Sneakers: Post-Modern Dance. Wesleyan University Press, Middletown. 1977.
Il tempo e gli ambienti di Meredith Monk con il Testo Parlato di 'Quarry'; a cura di Franco Quadri; Edizionia de La Biennale di Venezia; 1976.
"Digging for 'Quarry'" by Meredith Monk; The Village Voice; May 14, 1985.
"Dance: Meredith Monk's 'Quarry'" by Jack Anderson; The New York Times; May, 1985.
"Digging Monk" by Michael Feingold; The Village Voice; May 28, 1985.
"Magical 'Quarry' Paradox – Meredith Monk work at Free Theater" by Alan M. Kriegsman; Washington Post; March 5, 1986.
Steinman, Louise. "Memory Strata: Meredith Monk's 'Quarry". The Knowing Body: Elements of Contemporary Performance and Dance. Shambhala, Boston. 1986.
Meredith Monk (PAJ Books: Art + Performance); ed. Deborah Jowitt. Johns Hopkins University Press. Baltimore. 1997.
"Distress Signals and the Artistic Imagination: Meredith Monk's 'Quarry'" by Alan M. Kriegsman; program booklet for Spoleto USA; June 2003.
"'Quarry' weaves quilt with layers of meaning" by Jeffrey Day; The State; June 2003.
"Magnificent Monk: 'Quarry' immerses audience in a surreal, breathtakingly emotional experience" by Jennifer Corley; Charleston City Paper; June 4, 2003.
Monk, Meredith. Liner notes to Radio Songs. Meredith Monk. The Sound of White Columns, LP, 2014.
Marranca, Bonnie. Conversations with Meredith Monk. PAJ Publications. New York, NY. 2014.
Tallon, Jean-Louis. Meredith Monk: Une voix mystique. Le mot et le reste. France. 2022.