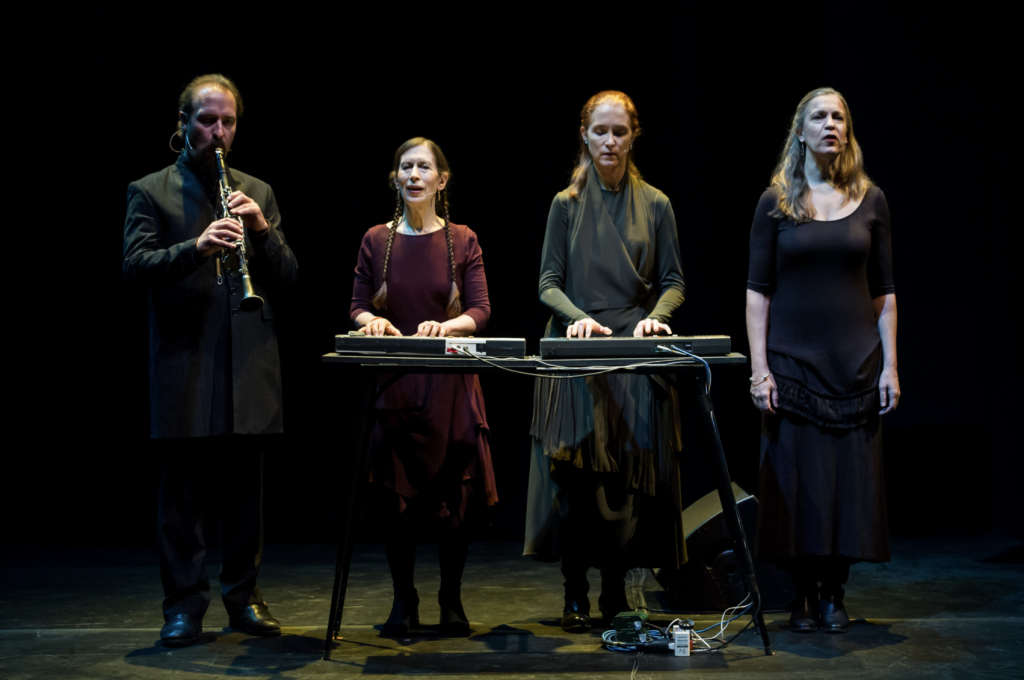 Bohdan Hilash, Meredith Monk, Allison Sniffin and Katie Geissinger performing The Soul's Messenger © 2012 Musée du Louvre / Olivier Ouadah
The Soul's Messenger
Meredith Monk has been called "a Magician of the Voice," and "one of America's coolest composers," amazing audiences across the globe with her genre-defying compositions for more than 50 years. Her groundbreaking exploration of the voice as an instrument, as an eloquent language in and of itself, expands the boundaries of musical composition, creating landscapes of sound that unearth feelings, energies, and memories for which there are no words. With The Soul's Messenger, Meredith Monk & Vocal Ensemble offer a quartet concert showcasing Monk's range as a composer and her engagement with performance as a vehicle for spiritual transformation.

Meredith Monk, voice and keyboard
Katie Geissinger, voice
Allison Sniffin, voice, violin and keyboard
Bohdan Hilash, woodwinds

Repertoire includes: Selections from Juice, Songs from the Hill and Light Songs, Gotham Lullaby, Travelling, Madwoman's Vision, Choosing Companions, Hips Dance, Prayer II, Scared Song, epilogue, woman at the door, clusters 3, Panda Chant 1, Memory Song, masks, between song.

The Soul's Messenger premiered in 2010 at Lincoln Center's White Light Festival, and has since toured throughout the world.
---
"[Monk] may loom even larger as the new century unfolds, and later generations will envy those who got to see her live."
–Alex Ross, The New Yorker
---