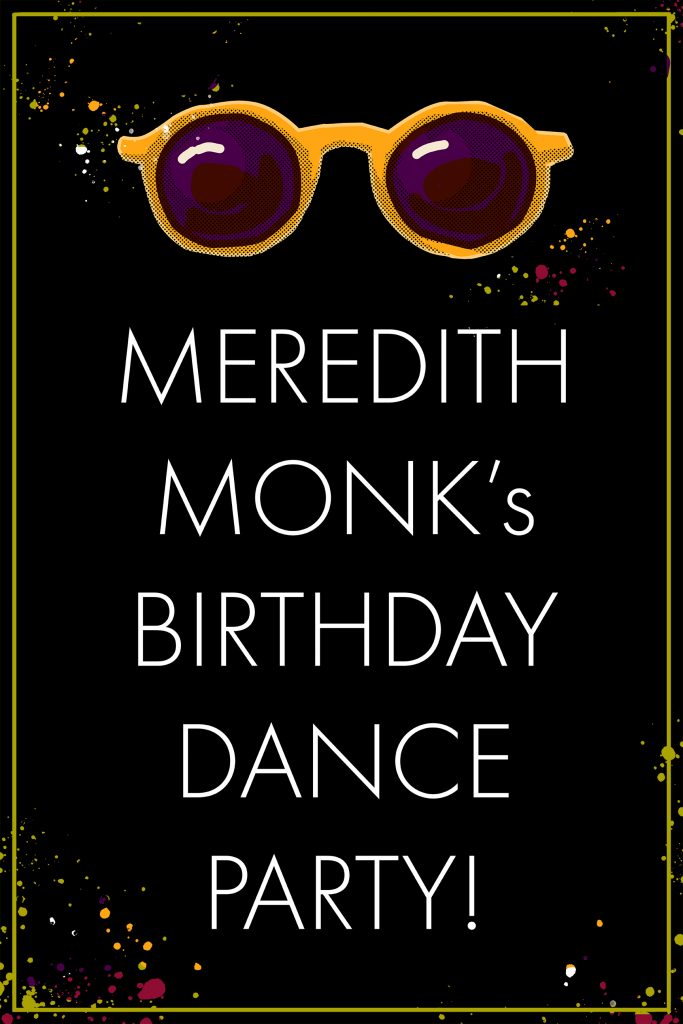 TICKETS NOW AVAILABLE
via National Sawdust
Shhhh! (It's a Surprise)
November 20, 2019
Doors at 7pm, Show at 8pm
National Sawdust
80 North 6th Street, Brooklyn, NY

DJ Sets by:

Rayna Russom
DJ Rekha
Performances By:

Neon Calypso
José Rivera Jr.
Come dance with Meredith Monk and celebrate her 77th birthday with DJs — Rayna Russom, the "Synth Wizard" known for her work with LCD Soundsystem, and DJ Rekha, a pioneer in bringing Bhangra music to the United States — and live performances by Neon Calypso, a staple of Sasha Velour's "eclectic, wild, and highly personal" drag showcase Nightgowns, and José Rivera Jr., whose "glam-glitch" electro-pop and athletic, post-modern choreography "[orient] us towards Queer Future — queering narratives of love, power, and vulnerability." With sweet treats by Milk Bar & an on-site raffle with Meredith Monk-themed prizes.
Can't make the party?

Give a gift to The House Foundation
in honor of Meredith's Birthday.